Age: Toddler, Preschool, Kindergarten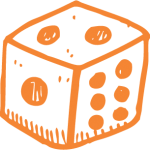 Equipment: Dice
Space requirements: On-the-spot
Activity description:
Have a child roll a die. The number that comes up will determine the activity the children will participate in:
1 – Running on the spot
2 – Skipping on the spot
3 – Balance on one leg
4 – Jump up high and sit down
5 – Spin in a circle
6 – March on the spot
Have a child roll the second die. This is how many repetitions or how many counts of the activity children will do.
Skill development:
Physical skills: skipping; running; marching; jumping; reaching; balancing
Non-physical skills: listening and following instructions; counting
Adjust the challenge:
Use less vigorous on-the-spot activities such as touching your toes, clapping your hands or reaching up high while on your tip toes.
Roll more than one die to determine the number of repetitions and have children add the numbers.
Activity modified from: A Hop, Skip and a Jump: Enhancing Physical Literacy (2nd Edition)