Age: Preschool, Kindergarten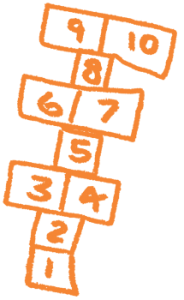 Equipment: Hopscotch grids (or make your own with tape or chalk), stones
Space requirements: Open space
Activity description:
Use tape or chalk to set up a grid with numbers 1-10.
Children start by throwing a stone into the number 1 square.
Children jump through the course, avoiding the square with the stone.
Once the child has reached the number 10 square, they turn around and head back to the starting point.
When the get back to the square with the stone, the bend over to pick it up.
The game repeats with the stone being thrown into squares 2-10.
Skill development:
Physical skills: hopping; reaching; bending; balancing; eye-hand coordination
Non-physical skills: self-discovery; creative play; number recognition
Adjust the challenge:
Have children jump with two feet rather than hop on one.
Increase the number of squares.